Hours
Monday - Saturday
10am - 10pm
Sunday
Noon - 6pm
Stay Informed
BEER
Guinness Pub Draught 4pk 6.40
Montucky Cold Snacks 12pk 10.06
Tivoli Bohemian Pilsner 6pk 9.99
Wicked Weed Hop Cocoa 4pk 11.59
Telluride Fishwater 6pk 15.49

LIQUOR
Saint Brendans Irish Cream 750ml 14.99
Chopin Vodka 750ml 28.99
Belvedere Vodka 750ml 29.99
Marble Vodka 750ml 29.99
Casamigos Blanco Tequila 45.99

WINE
Jean Phillipe Blanquette Brut 13.99
Oyster Bay Sauvignon Blanc 14.99
Kim Crawford Sauvignon Blanc 19.99
Cliff Lede Sauvignon Blanc 22.99
Naked Chardonnay 11.99
Ch St Jean Chardonnay 12.99
Joel Gott Chardonnay 16.99
Cherry Tart Chardonnay 19.99
Block Nine Pinot Noir 13.99
Cherry Tart Pinot Noir 19.99
Decoy Pinot Noir 22.99
Hahn Cabernet 13.99
Foxglove Cabernet 15.99
Joel Gott Cabernet 16.99
Decoy Cabernet 22.99
Charles Krug Cabernet 29.99
Peirano Illusion Red 11.99
Hahn GSM 13.99
San Lorenzo Gavi 13.99
Touzot Macon Villages 14.99
Grafigna Elevation Red 11.99
Nineteen Crimes Red 12.99
Parallele 45 Cotes du Rhone 14.99
Paolo Scavino Rosso 14.99
Volver Tempranillo 15.99
New Items
MALFY con Limone Gin 27.99
From Italy where Gin was invented
Juniper based with a lemon kick


ANGEL FIRE VODKA 33.99
So smooth you know the angels drink it


SPYTAIL Black Ginger Rum 23.99
Fine French Rum barrel aged with fresh ginger


SUNTORY TOKI WHISKY 49.99
Made from grains, bold yet smooth, a blend from Suntory's 3 distilleries


FORBIDDEN FRUIT LIQUEUR22.99
From Colorado's Lee Spirits a white grapefruit, spice and honey treat


Don't forget…
...you can ask us to order any items that you don't see in the store and we will do our best to get it within a few days.
About Us
Aspen Wine & Spirits has everything you're looking for in wine, beer and spirits. We always have a large selection of sale items and always something special. We are located next to Clark's market with ample FREE parking. We have delivery and party planning services and a friendly and knowledgeable staff waiting to help you.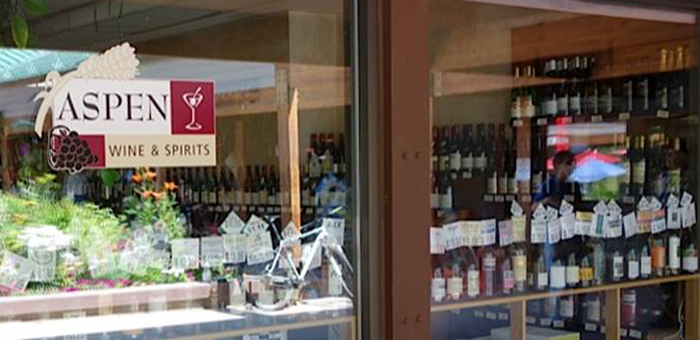 Ask About…
...Grower Champagne Farmed & Vinted by small family producers. Maintaining a strong expression of place and the highest quality for the price. Not produced in a factory like the big names. You must try some of these amazing wines.