Hours of Operation
Monday - Saturday
10am - 9pm
Sunday
Noon - 6pm
Stay Informed
BEER
Telluride All 6pks On Sale
Silver Moon Simon Says 6pk 9.88
Two Brothers Dupage 4pk 10.61
Avery Sparkle Seltzer 12pk 15.37
Upslope Spiked Snowmelt 12pk 16.47

LIQUOR
Helix Vodka 1L 15.99
Belvedere Vodka 750ml 29.99
Corazon Blanco 750ml 22.99
Espolon Blanco & Reposado 750ml 28.99
Don Julio Blanco 750ml 49.99
Rebel Yell Bourbon 750ml 18.99
Makers Mark 750ml 29.99
Basil Hayden 750ml 45.99

WINE
Giuseppe & Luigi Prosecco 12.99
Anselmi Pinot Grigio 11.99
San Lorenzo Gavi 13.99
Oyster Bay Sauvignon Blanc 14.99
Jax Y3 Sauvignon Blanc 18.99
Foxglove Chardonnay 15.99
Joel Gott Chardonnay 16.99
Farmstead Chardonnay 18.99
Jax Y3 Chardonnay 21.99
Block Nine Pinot Noir 13.99
Left Coast Cali Pinot Noir 20.99
Jax Y3 Pinot Noir 27.99
Van Duzer Pinot Noir 30.99
Foxglove Cabernet 15.99
Joel Gott Cabernet 16.99
Jax Y3 Cabernet 21.99
Decoy Cabernet 22.99
Cliff Lede Cabernet 69.99
Trapiche Malbec 11.99
Piattelli Malbec 14.99
New Items


ANGEL FIRE VODKA 33.99
So smooth you know the angels drink it


SPYTAIL Black Ginger Rum 23.99
Fine French Rum barrel aged with fresh ginger


SUNTORY TOKI WHISKY 49.99
Made from grains, bold yet smooth, a blend from Suntory's 3 distilleries


FORBIDDEN FRUIT LIQUEUR22.99
From Colorado's Lee Spirits a white grapefruit, spice and honey treat


Don't forget…
...you can ask us to order any items that you don't see in the store and we will do our best to get it within a few days.
About Us
Aspen Wine & Spirits has everything you're looking for in wine, beer and spirits. We always have a large selection of sale items and always something special. We are located next to Clark's market with ample FREE parking. We have delivery and party planning services and a friendly and knowledgeable staff waiting to help you.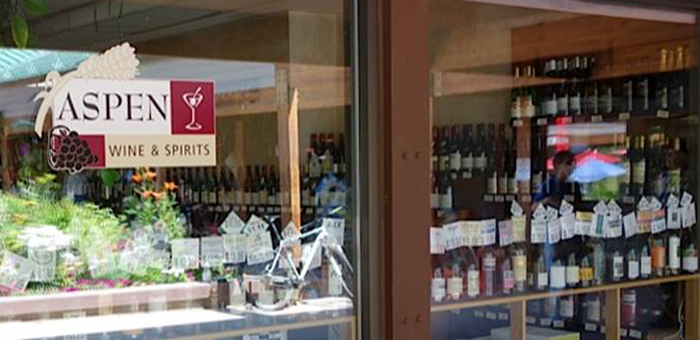 Ask About…
...Rose' Whether from Spain, Italy, France, Argentina, Oregon or California...rose' is everywhere and we can pair you with the perfect one for your summer fun.